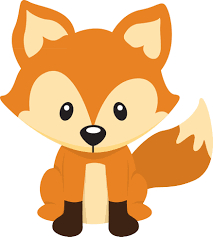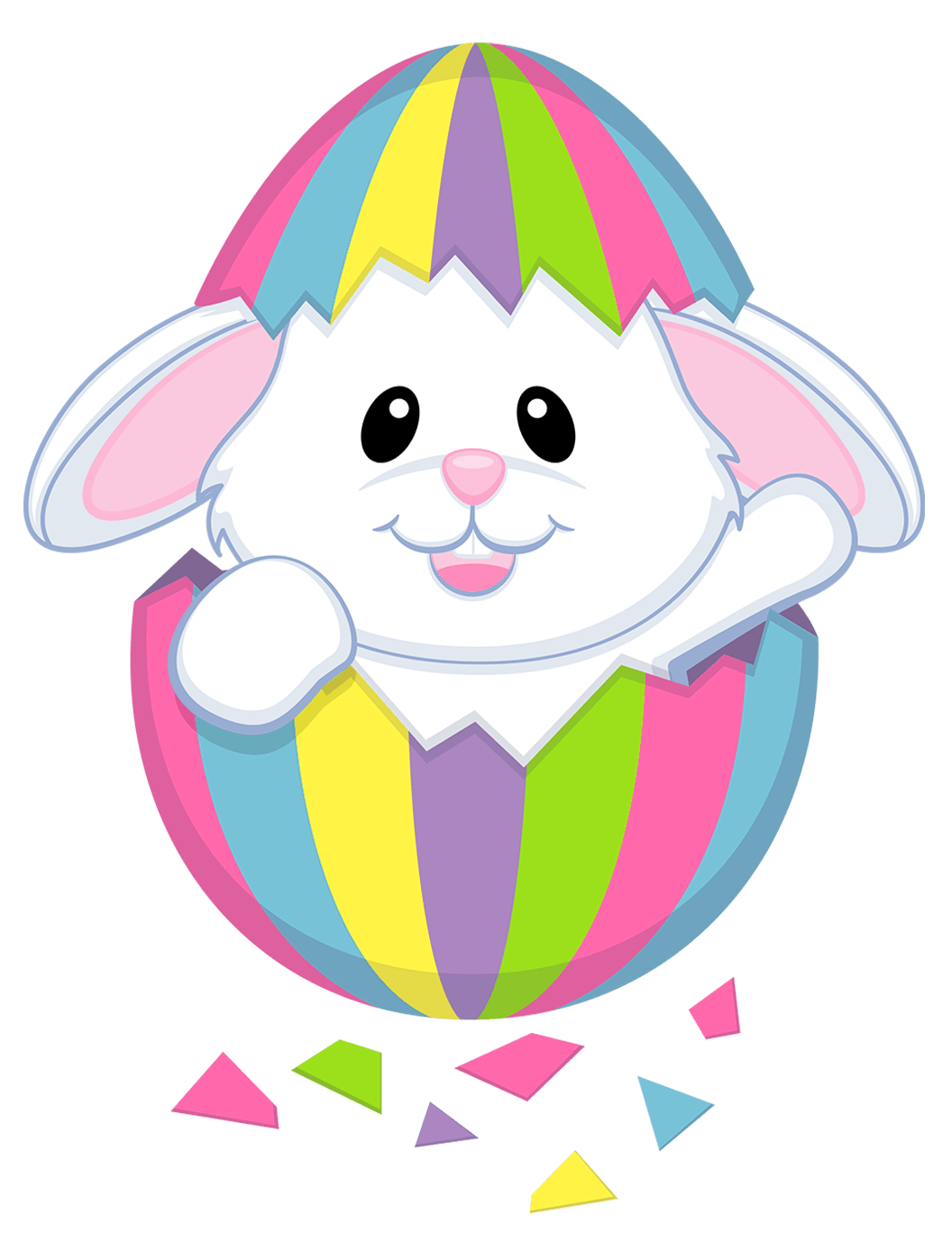 Happy Easter Fox Class!
This is just a message to let you know that there will not be any daily Maths and English activities uploaded for the next two weeks. However, there are lots of great ideas on this page and in the Home Learning section of our school website. You could also try out the English and Maths learning pages on IXL. The next upload of daily Maths and English will be on Monday 20th April.
Here are some ideas of different things you might enjoy during the Easter break:
I hope you have a wonderful Easter and that you get to do some of the things you usually enjoy with your families. You will still be able to ask Mum or Dad to help you get in contact with me on Class Dojo and by email if you have any questions. I can't wait to see some photos of the Easter fun you have had.
Happy Easter from Miss House and Mrs Gregory xx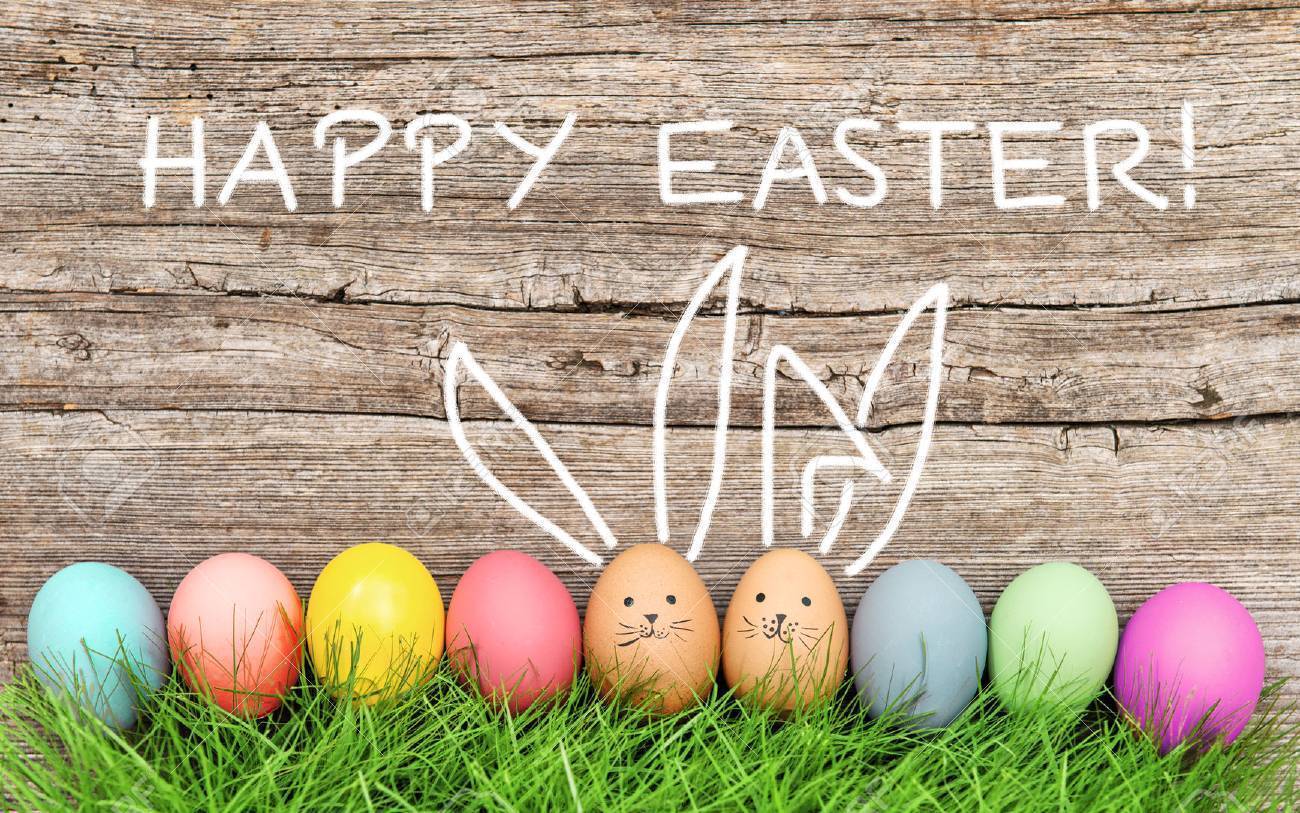 This is where I'll put all the different activities for you to do at home while we are waiting for the school to reopen. Keep checking back as I will update it regularly with all the different activities you can do in order to keep learning new things and developing your skills. There will also be regular activities and challenges on Professor Assessor and Purple Mash so make sure that you check there as well.
While you are away from school, you should spend some time each day doing some learning activities. Here is an example timetable of how you could spend your mornings.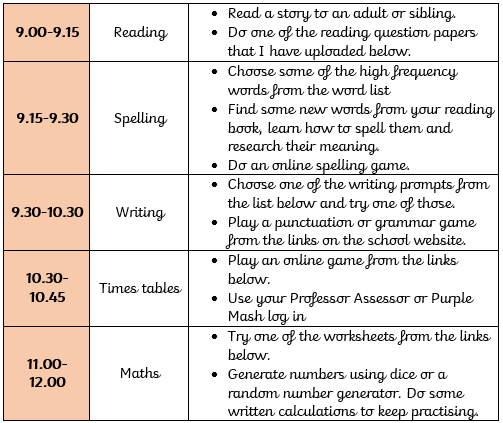 Here are some activities, games and worksheets for you to try:
| | | | |
| --- | --- | --- | --- |
| Maths and Times Tables | Reading | Writing | Spellings |
| | | | |
.Week Two Daily Activities
These links will be updated regularly so keep checking back to find lots of new, fun ideas.
You may also wish to try out IXL - a new learning resource that Mrs Abbott has just set up. IXL is a comprehensive learning programme offering unlimited maths and English practice across thousands of skills—all of which are aligned to the National Curriculum. Ask your Mum or Dad to check their emails for your login code. Here is the link: IXL Home Learning Programme
As often as I can, I will put up a Fantastic Fox Class Challenge for you to complete. This will be something extra for you to try in the afternoons. You don't have to take part, but I would love to see anything that you do! If you email the school office a photo of your challenge, I will upload some of the most brilliant responses onto this page for you all to see. Keep a lookout for the updated challenges at the bottom of this page.
Here are some different ideas to try in the afternoons. Enjoy having the time to follow your own interests and try new things. Make sure you spend time outside and get lots of fresh air.
Daily Workouts - live at 9am daily!
Active Inspire Home Learning Hub
I hope that you're all well at home and enjoying some extra time to do the things you like best. It is completely ok to feel unsure about things at the moment but I hope you will talk to an adult if you're feeling very worried. You can always ask your Mum or Dad to email me if you have any questions and I promise that I will reply. You can upload photos of your learning onto your Class Dojo portfolio or email them to me. I'd love to see everything you are doing.
See you all soon. Stay well and enjoy spending extra time with your family.
Miss House and Mrs Gregory xx
26.3.20 Challenge:

Some of our amazing previous challenge responses!