Values Education
WELCOME
TO SHIPTON BELLINGER PRIMARY SCHOOL
At Shipton Bellinger Primary School, we aim not only to give the very best education to your child, but also to work in partnership with you in developing your child's full potential.
Our school is fortunate to be staffed by a dedicated team of professionals who design a creative and challenging curriculum and organise the classrooms in such a way that children work within a stimulating learning environment. We believe that children flourish when they feel secure and valued. We are proud of our reputation for nurturing a caring environment with the emphasis on self-esteem, co-operation and mutual respect. In return we expect a high standard of social behaviour from the children.
Our Vision:
Shipton Bellinger Primary School is a community of learners that will provide the best possible education for all our children. We promote equal opportunities to develop potential, confidence and self-esteem to enable all children to become citizens for the 21st Century.
About our School
Shipton Bellinger Primary School is a maintained community school and therefore enjoys the support of the Local Education Authority, Hampshire County Council.
By the time the children join our reception class, they have already started to become independent and have acquired a range of abilities. Children bring their own talents, and some may have specific needs to which our school will respond. It is at home and in the local community that the child's early learning takes place.
We are building on the learning that has already begun. Parents have a vital role to play in their children's education, which starts from birth. We aim to work in partnership with our parents since it is only by both parents and school working together in taking an interest in children's learning that they will develop to their full potential.
Our underlying aim is to provide a happy, secure environment in which the children will thrive and develop intellectually, emotionally, spiritually and socially.
"Pupils feel safe and are proud to belong to the school." OfSTED 2017
The Aims of the School
Provide a foundation for children's life-long learning.

Give all children access to the Foundation Stage and National Curriculum as appropriate to their needs.

Provide high quality teaching and learning, by promoting excellence and enjoyment.

Encourage high standards in everything we do.

Provide a stimulating and challenging environment, where children are encouraged to develop their independence.

Celebrate pupils' achievements.

Ensure children are encouraged to express their views and listen to the views of others.

Encourage positive relationships which are based on mutual trust, respect, support, a clear sense of responsibility and good communication.

Promote a healthy, happy, safe and secure environment.

Recognise the school as part of the larger community.

Enable governors, staff, parents and children have the opportunity to be involved and informed.
~~~~~~~~~
Our Class Charter
We work hard and behave in a way that allows everyone to learn.
We are polite and kind to others.
We respect the property of the school and other people.
We follow instructions and ask for help if we need it.
Shipton Bellinger Primary School
Improving Learners
How will we know our core values are contributing to the development of skills, understanding and attitudes in our children?
Pupil accreditation of the PRIDE skills and core values.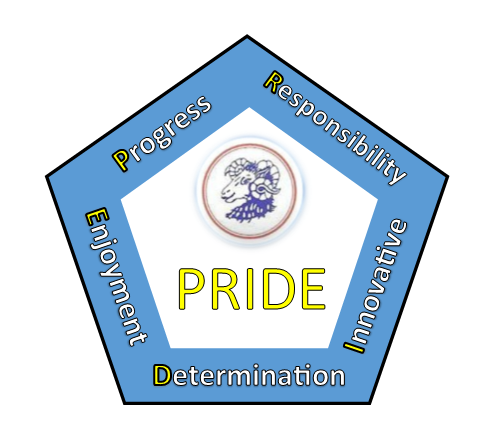 Introduction
The following guidelines will provide support in recognising and assessing pupil development of the key skills for life associated with the 5 core learning values at Shipton Bellinger School.
Accelerated skills development
Some children will develop and extend their personal attributes more quickly than the majority of their peers. However, although children who have developed advanced levels of skills for their year group will be recognised and encouraged to further develop them throughout the year.
Responsibility
All staff will share the role of encouraging and recognising the development of these core values within the children.
Organisation
If the adult working with the children view the progression of a particular skill, then the adult will tick of one of the 3 strands of development for each of the core values.
Accreditation
All the skills for that year group must have been demonstrated before receiving their year group PRIDE award.
The ultimate goal is the end of key stage full accreditation, to be presented by the Head Teacher.
At the end of the key stage, pupils will have had the opportunity to demonstrate the skills and attributes relating to each core value at an increasingly broad and sophisticated level.
By the end of year 6, it is anticipated that the majority of pupils will have demonstrated sufficient skills development to be given full accreditation of the PRIDE award. Other pupils will have had the opportunity to be awarded recognition of their own personal development in relation to the PRIDE awards for previous year groups, to be awarded by year leaders.
Core value (pupil attribute)

Skill or behaviour

Examples of evidence

Progress

Achieving Learning Intentions

Referring to class success criteria

Achieving personal targets

Knowing their targets

Verbally explain what their target is and how they can improve on it.

Working hard to improve their own personal target

Achieving MUST targets

Evidence in books that they are meeting the MUST targets regularly.

Responsible

Accepting accountability

Tell the truth about involvements in incidents

Contribute to the class charter at the start of the year

Seeking responsibility

Accept a job that you are offered in class

Keep own tray and resources tidy

Caring for others

Identify people in own family who need extra care and why

Find a way to help at home

Innovative

Try different approaches

Try more than one way to solve a problem (or show, eg in relation to TASC wheel, that they have alternative ideas about how to solve a problem).

Create a new story

Create a new move in PE/Gym/dance

Be enterprising (add value)

Create something out or junk or waste materials

Generate original ideas

Offer your own idea in a group or individual task

Determination

Seek challenge

Select higher level challenges from a range (eg in maths pack activities)

Continue same task unaided for 30 minutes and with support for 40 (eg wizard writing)

Continue a task over a week, and see it through to the intended outcome

Discuss objectively the reasons for not succeeding and how to be more successful next time

Sustain effort

Cope with disappointment

Enjoyment

Showing enthusiasm for their learning

Trying their best in all lesson, even those which they struggle with.

Aiming to get House Points and other class rewards for effort

Aiming to achieve rewards

All round positive attitude