Uniform
We ask parents to make every effort to send their child in the uniform listed below. The governors and staff are very keen to encourage high standards of dress and behaviour.
School Uniform, book bags and PE bags with our School Logo on is available direct from Tesco Online. From 12th Feb 2019, Uniform ordering will move to My Clothing, please see the link here for further details: Click Here
PLEASE ENSURE THAT ALL ITEMS ARE NAMED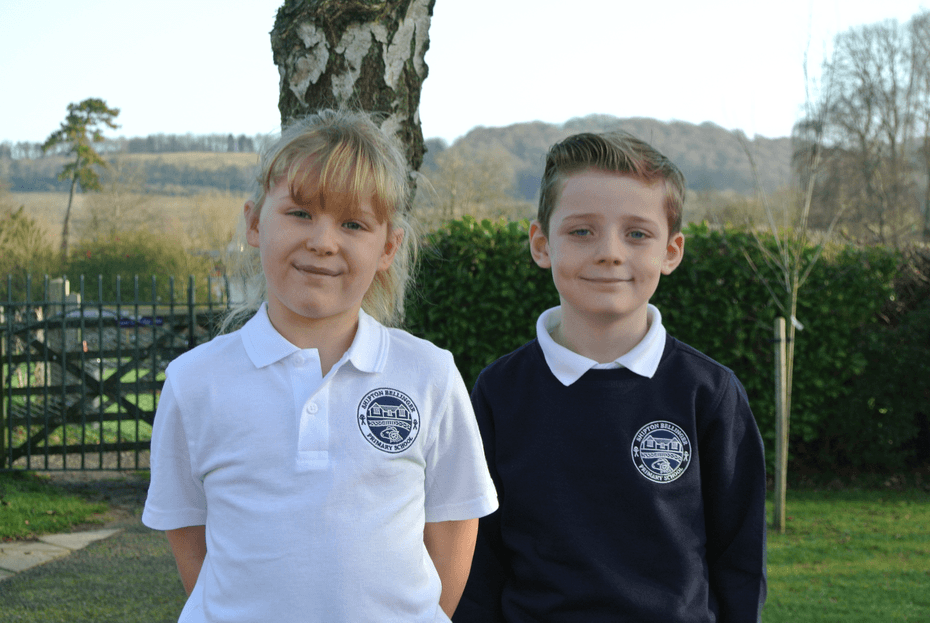 Girls Boys
Navy School sweatshirt or cardigan Navy School sweatshirt
White blouse or polo shirt White, blue or grey shirt or white polo shirt
Grey or black skirt or trousers Grey or black trousers, long or short
Blue and white gingham dress Sensible black shoes (not trainers)
Sensible black shoes (not trainers or boots) (Baseball cap/ Sun hat)
(Baseball cap/ Sun hat)
Also available - reading folders, PE bag, fleece and waterproof fleece.
For P.E. the children will need white T-shirts, black shorts and trainers. A change of socks is desirable. For games during the winter season the children will need to be suitably dressed ie plain, dark coloured jogging bottoms /track suit are essential for all children. No large kit bags are allowed as space for storing them is at a premium. A pair of trainers is desirable if they wish to play on the field in the cooler months.
Children are not to wear fashionable shoes or boots with heels or platforms for school.
Heels of under two inches is the upper limit, as higher heels would inhibit play.
Jewellery
Jewellery, including hair beads, are not to be worn by children whilst at school for health and safety reasons. Some children have pierced ears and the following points should be understood with regard to the earrings themselves.
Earrings can be dangerous in a school situation and the school will not be held responsible for any damage to ears as a direct result of a child wearing them. If your child does have pierced ears and wears earrings to school, they must be small studs.
In certain situations e.g. P.E. and swimming, the class teacher may insist that studs are removed for safety reasons. If ears are newly pierced please supply surgical tape for protection during these lessons in the first few weeks